---
Quote:

Q:

I get motion sickness when playing The Void. Any way I can avoid this?

A:

Halfgild made a fix to the head bobbing in game. Just download

here

and follow the instructions contained

I'd have to guess that many people got sick for a different reason than the headbobbing (the fluid left-right viewpoint movement). My problem was the stuttering motion ingame, but not your typical low-FPS stutter. This thing happened only in the chambers, and only when I moved. Whenever I stopped moving everything was fluid once again, the predators, fireflies, the exit portal animation, etc. When I moved, the FPS was high, but I got a movement stutter appearing approx. 3 times per second, as if someone was constantly kicking my character in the back. This made the game almost unplayable for me, my eyes would hurt so much after ten minutes I had to exit the game and do something else for a while before continuing.

So anyway, after tweaking the settings (start menu -> Programs -> The Void -> Game settings) for a long time and trying out different combinations with stuff on and off, I came to the following conclusion: Refresh rate 59, vsync no = NO STUTTER! (even though Refresh rate 60, vsync yes = stutter, Refresh rate 60, vsync no = stutter, Refresh rate 59, vsync yes = stutter)

I practically stumbled upon this solution by chance, but I would've never guessed it because it just seemed like a problem that had something to do with the game mechanics and not visual settings. I tried changing the settings several times (even once again before typing this post) and each time it was as I discribed above unless I put RR on 59 and turned the vsync off.
The rest of the settings: 1920x1080, HDR Enabled, AA Disabled (bacause of the ATI mine veins invisibility bug), AF 16X, Texture High, Lightmap High.
PC: Intel Core2Duo E8400 @3,2GHz, Asus P5Q, ATI Radeon HD4890 Vapor-X, Acer X243H TFT

Did anyone else here encounter the same problem I have?


Quote:

Q: I cannot find a trap for this garden!
A: Bear in mind that some gardens do not have traps, yet remember that time doesn't flow inside the chamber so, barring other predators, that your time to explore every nook and cranny of the chamber.
A2: In Yani's garden look for a sticking snag. The same in Ole's garden.

Here's a small trap guide:

Nameless sister (Sister Death)
"Fog" (Garden) - After you come in, turn around, look to the right of the entrance and approach some of the roots coming down from the big rock above the entrance.

Uta (upper left from the nameless sister)
No Gardens, you can find a few small trees scattered around the two reservations, but no traps.

Una (upper left from Uta)
"Moorage" (Garden) - Near the bottom of the stairs is a huge rock with some spikey roots on it.

Ire (upper right from Uta)
No Gardens, but "Darkness" (reservation) looks almost exactly the same as Sister Death's "Fog" (Garden). You can grow trees there even though you can't use the rock above the entrance as a trap. The white thing in the middle of the area is not a trap, it's a summoner (like the one in Uta's "Heather" reservation).

Ava (upper right from the nameless sister)
"The Caves" (Garden) - There's a snag sticking out of the water right in front of the entrance, you won't miss it.


Eli (upper left from Ava)
"Twist" (Garden) - This is a regular garden, but there is no trap here.

Ima (upper right from Ava)
"Bridge" (Garden) - Across the bridge, next to a tree, there is a huge rock with some spikey roots on it (looks the same as the one in Una's garden).

Yani (top left)
"Hull" (Garden) - If the entrance were 6:00, the trap is on 12:00 in this round garden. It's a snag, like the one in Ava's garden.

Ole (top right)
"Memory" (Garden) - The same as Yani's garden.

Have fun impaling the brothers!



Quote:

Q: Sisters take too long to open up their hearts. Can I do something?
A: Before feeding a sister with colour, make sure you fill yourself with the most gold possible. That will reduce the amount of colour you need to open up a sister heart.

Q: Any tips to save on colour?
A: A good tip is that the more violet you have in your hearts, the less colour you actually use while planting a tree.

After doing some testing, the multiplier for certain things increases the more color you have in your hearts, but only up to 100 of any color (hence the attribute bars on the lower left of the screen that don't show more than 100% even if you have more than 100 of color in your hearts). Having more than 100 doesn't increase the multiplier any further than 1,5x. You can add more than 100 of each color if you want to have more HP in a fight, but if you want to:
use up less color when filling a sister's heart (gold),
use up less color when filling a tree (violet/purple),
convert lympha to nerva faster (amber/yellow),
inflict less to no damage to the realm / prevent the predators from appearing (silver),
inflict more damage in a fight (crimson/red),
recieve less damage in a fight (emerald/green)
or move faster / jump further (azure/blue),
there's no point in filling more than 100 of each color.
For example, when having 100 or more gold in your heart/hearts you can fill 300 worth of color in a sisters heart by using 200 worth of color from your palette (1,5x).



Quote:

Too often have I just finished donating a wad of colour to a Sister and then 5 minutes later release I forgot to take the gold out.
If only I recieved a penny each time this made me reload an earlier save...
Quote:
Then this should be useful.
Map with the location of every Sister and their colors, including the wandering Sisters, with the extra of mines and gardens.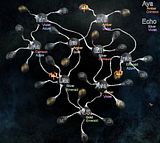 That IS really useful, thanks man!

If only I had this a week ago, it would save me from sticking a million post-its with names, colours and hand-drawn maps all over my desk.


Even though when you hover your mouse over Ire's topmost chamber, it says "Darkness (Reservation)" (probably the reason it's not marked as garden on your map), I guess it could also count as garden since it's, apart from the lack of the trap function, the same as the nameless sister's garden with 12 or so trees that can grow color.

Sorry for the long post, folks.